This is my 300th post!  Which I think is very cool, frankly.  So instead of a tutorial today, I'm going to talk a little bit about the blog, and what's going on right now (which is actually kind of a lot of stuff!) and tell you a few things you may not know about me.  Yes, this is partially because I took a long weekend and I've been playing with my family instead of doing any crafting, but it just seems such an appropriate time for a post like this.
While it may be 300, I assure you, I'm not wearing a gladiator outfit as I write this post.  (Although… you'd never know, would you?)
First of all – the news!  Signups are still open for the Christmas in July Gift Exchange.  Partners are being matched in both the US and Canada to exchange handmade gifts.  It's going to be a lot of fun!  Click the button below if you're interested in learning more, and fill out the form there if you would like a partner for the exchange!
There are two giveaways going on right now – one for some fantastic craft supplies.  The fabulous Tiffany from Banglewood Crafts is giving away a set of unfinished wood bangles from her shop, and I'm adding a $10 gift card to Michael's for supplies to decorate them!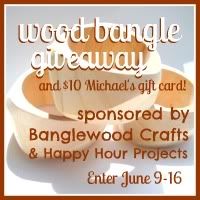 If you're interested in any of the other happenings – check the sidebar.  There's a giveaway for a Diamond Candle, and the Red White & Blue link party is open through the 4th.
Now my biggest news is of course no surprise to you, if you read here often.  I'm still alive in One Crafty Contest over at One Artsy Mama.  This week is round 4 – the wood round!  I had SO much fun preparing my entry this week.  Please, if you have a moment, pop on over and vote for your favorite.  The three who move on this week are the three who will be in the final round next week, so your votes are really important!  Amy asked for a bio about me as part of the top five contestants, and I'd like to share it here, too!
Of course, you probably already know, I focus on quick and easy projects you can do in an hour or less around here.  You'll find a pretty wide variety of projects – jewelry, sewing, baking – but what they have in common is that I present photo tutorials for nearly everything, and they are things you can actually fit into a busy day.  Because like a lot of you – my days are packed!
I'm a lot of things – a mom and a wife, first and foremost.  My husband and I got married in 2009, and our daughter is 18 months old.  My family is just the best!
I'm obviously a creative blogger.  I love crafting and writing, so the blog has been the perfect outlet to unleash some of my ideas.  I've been at it nearly a year now, and I have enjoyed the connections I've made with other bloggers and creative people so much.  There are just some things you can talk to your blog friends about that no one else can understand!
OCGR shout-out!
I also write fiction and I am part of NaNoWriMo (National Novel Writing Month) and Script Frenzy, which are 30-day writing challenges.  I head up my local group, and I've written first drafts for 5 novels and 3 screenplays as part of my involvement in that.  It really sounds like a bigger achievement than it is, I'll be honest.  I love to create the story.  But what makes a novel good is how much editing you put into it, which for me is exactly… none.  When I finally get the story out, I'm off to chase the next thing.  Maybe someday when I retire, I'll start polishing up these starts!
Sprockets are real.
Speaking of retirement – yes, I do work.  I have a full-time job as the accounting department of a small local company.  We sell industrial automation parts – it wasn't until I got this job that I learned that a sprocket is a real thing, and not something the Jetsons made up.
It's not the most exciting of jobs but it pays the bills, supports my hobby, and allows me to dink around on the internet several times a day. ;)
Amy had a few questions for all the contestants to answer.  It has been a lot of fun to read the responses from everyone in the top five and get to know them a little better.  These ladies are so amazingly talented – I'm nervous going up against them, but at the same time, seeing their amazing creativity is so inspiring!
The one crafting supply I can't do without is: 


Um, Diet Mountain Dew, maybe…?  Seriously, though, if I have to choose (even though it's like choosing a favorite child) I'd say, my jewelry tools. :)
My favorite project I've made in this contest is: 


The quilt I made for my daughter.  I have loved every round, but that one is just so sentimental to me.
My favorite project someone else made in this contest is: 


Oh, I can't pick one favorite!  Let me share my favorite from each round?  From the bead round, Pamela's Beaded Lantern.  From the Mod Podge Round, Meredith's Mason Jars.  In the fabric round, Amy's Gnome Home!  I can't wait to see what the wood round brings!
At Starbucks, I love to order: 


Something different every time I go.  I just love trying new things!  :)
If I could travel anywhere, I'd go: 


Anywhere.  Yes, I know that's not really an answer, but getting in the car with my family is *the* most fun thing to do.  I knew I could marry this man when we drove 19 hours to Myrtle Beach (and 19 hours back) and came out of the car laughing.  We didn't have a single argument or get on each others' nerves.  Road trips are so much fun – it doesn't matter where we go.  Staying close to home just means we get to get away that much more often!
The best thing about crafting is: 


Making something beautiful with your own two hands.  
Thanks so much for dropping by this morning.  If all goes according to plan (er… which is always a questionable thing) we are off to the zoo.  It's been HOT this weekend, though, so enjoying some AC might be more appealing. ;)
See you all tomorrow!!
~ Adrianne