This month's theme for the Crazy Cooking Challenge (hosted by Mom's Crazy Cooking) is Grilled Cheese Sandwiches!
Grilled cheese sandwiches have always been an absolute favorite of mine.  So much so, that the idea of visiting other blogs to find a recipe other than bread, butter, and colby-jack cheese (my standby, I eat it at least once a week!) kinda freaked me out a little.  I mean, why mess with success, right?
Gouda.  That is why.  For the love of cheese.
I visited Care's Kitchen and decided that her Grilled Gouda, Apple and Ham Sandwich was just intriguing enough to step outside my box – just this once, anyway.  I am normally a very adventurous eater – don't get me wrong.  But I love my grilled cheeses just the way they are.  But since everything in this sandwich sounded good, I decided it was worth a try.
And holy cow, was it worth it!!
I don't know what to think, other than there is an entire world of cheesy goodness out there that I suddenly want to explore.  Fortunately with the Crazy Cooking Challenge, everyone is sharing a grilled cheese sandwich recipe, so I have all the lovely links below to choose from next time I want a cheesy-crisp lunch!
I liked that this was still quick to put together, which is what I love about grilled cheese!  And I have to admit, adding more protein and some fruit makes this sandwich a pretty balanced choice, as far as quick dinners go!
I used a honey wheat bread, butter, smoked gouda, a Gala apple, and low-sodium ham.  Just cut your apple and your gouda into thin slices, layer it on, and fry it up until it's golden brown and melty-licious.  (Thin slices are easier said than done with the cheese – mine was a bit crumbly, but because it all melts anyway, it's no big deal – whole slices just make it easier to turn when you're cooking it, is all!)
The key when you've got several ingredients is to grill it in your pan on medium heat.  Too low, and the heat won't reach the center.  Too high, and your bread will brown before your cheese melts properly.  You want to set it so that your sandwich takes about 5-6 minutes to cook up.  Fortunately for the grilled-cheese-pro that I am, I know to set my stove burner to 6 for the perfect balance. ;)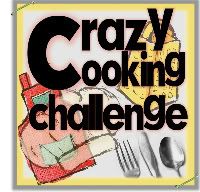 So check out the links below for some crazy grilled cheese innovations, and if you liked my recipe, you can vote for me just by clicking my link below – it's #20!