This is a Sponsored post written by me on behalf of American Frozen Foods Institute and the Frozen Food Roundtable for SocialSpark. All opinions are 100% mine.
I'm about to confess something that most of you reading will be able to relate to: I cut corners wherever I can because there really aren't enough hours in the day.  Especially when it comes to meals.  Are we on the same page?  Mostly? Okay good.  Whew.  It's one thing to aim for meals with minimal prep (which is a life-saver), but I'll tell you what I *really* don't have time for: extra grocery store runs.  Once a week is torture enough!  So we utilize a lot of frozen foods in our meal planning.  It's always been that way.
There are lots of benefits of frozen foods, and the biggest to me is that I can stock up when our favorites are on sale, and we can incorporate them into our menu at our own pace.  This what you see above?  You can nearly alwas find all these things in my freezer.  I cannot tell you how much produce and meat I've thrown away in the past because the week got too busy and we didn't get around to making everything on the dinner menu.  But that doesn't mean we give up freshness, either!  The Frozen Food Foundation has a great educational effort going on right now: How Fresh Stays Fresh.   It de-mystifies the frozen food processes and shows us how fast-freezing at the peak of freshness locks in the flavor and nutrients of ingredients and prepared meals.  It's just a pause button at food's best.  It's real ingredients and real recipes.  It actually makes it a no-brainer for our family: fresh vs frozen?  Frozen is the way to go for our lifestyle.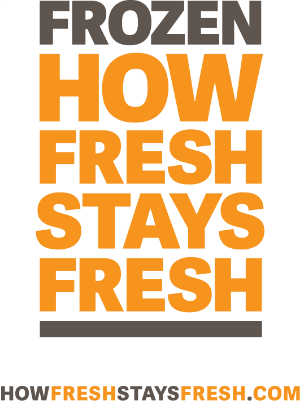 You know I aim to keep things simple in the kitchen.  And when I can send Kevin out  to grill – all the better.
Burgers pair great with baked potato wedges or with fries.  It gives our table the restaurant feel for a fraction of the bill.
We love making breakfast, too.  I've got an awesome sausage and egg casserole recipe that bakes up so much more quickly by using frozen hash brown potatoes as the base layer.
Another thing that's important to me is feeding Roman fresh food, too.  I love the steamer bags!  Peas, green beans, carrots, rice – all of which are one-ingredient foods when you check the label.  The prep doesn't get any easier than popping the bag into the microwave to cook, then pureeing it in the food processor.
I'm able to pick up his favorite veggies and fruits anytime, and keep them frozen until I need to make up a new batch of food.  Most of the steamer bags make up around 15 ounces of puree.  I'm paying less than half the cost of the jars by making it myself, and the taste is authentic because it's fresh.
Stir fry is also so much easier with frozen veggies – the taste is fantastic, with NO prep and chopping.  I even have time to make my own sauce and still get dinner on the table in 30 minutes.
Stir-fry sauce (makes about 1 cup):
1/4 cup soy sauce (we use gluten free soy sace for a gluten free stir fry sauce)
1/4 cup broth (beef, chicken, or vegetable, depending what you're cooking)
1-1/2 tsp. apple cider vinegar
1 tsp. sesame oil
1 tsp. sugar
1 tsp. sesame seeds
1/2 tsp. crushed red pepper flakes (more or less to your tastes)
Just brown 1 lb. of protein (beef, shrimp, or we most often make chicken) in a pan, then add two 10-12 oz. bags frozen vegetables (we opt for a stir fry blend plus extra broccoli), and add the sauce about 3 minutes before removing it from the heat.  Serve it over basmati rice.  Perfect quick dinner.
Do you cook with frozen foods?  What are some of your favorite foods, recipes, or combinations?