This is a Sponsored post written by me on behalf of BuzzParadise for SocialSpark. All opinions are 100% mine.
A lot of you probably made resolutions to get organized this year – it's one of my goals too!  Gutting out your closet is one thing… but what approach do you take when you're talking about organizing your sensitive and personal information?  You know – the stuff you don't want to put on your laptop, because if that crashes you lose it – or if it gets stolen, then theives could have everything.

When I heard that you can get a free LifeKeep account, I was intrigued.  It's a secure place to store all your personal info.  For one, it keeps your files backed up, so if your computer crashes, you still have your precious photos!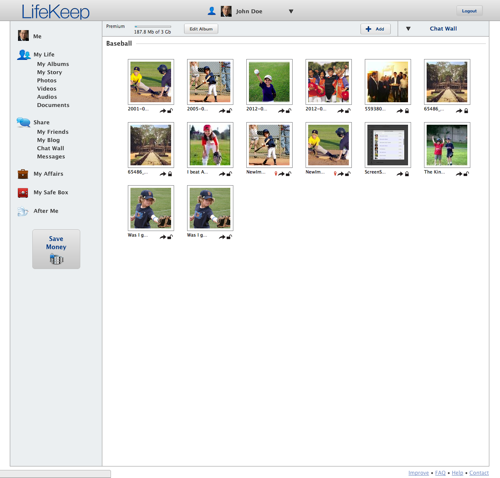 LifeKeep also allows you to interact with your friends on a private level – only sharing what you want to share.  You can exchange secure messages and even keep a private blog.
But I was most excited about the place to store all your personal information.  A lot of you read that I lost my dad last October.  And holy overwhelming… I knew settling an estate wasn't easy, but I am just SHOCKED at the sheer number of things that need to be done.  And he was prepared.
It made me realize that we are NOT prepared.  I have to admit… I keep track of most of our bills and income in my head.  I think I keep up on it pretty well, but if anything should happen – I really haven't done a good job organizing our most basic of household happenings.  I'm not even talking about a worst-case scenario – what if someone in our family has to stay in the hospital unexpectedly?  What if something happens to our house?  Heck – what if my purse gets stolen?  It's comforting to have a safe and secure place to keep all that sensitive information.
Another feature of the free LifeKeep account is that you can use it to record your final wishes.  So no matter where you are at in your planning, there are useful tools to help you.
LifeKeep uses AES-256 encryption which is widely considered the highest security encryption standard, and your personal data requires a PIN and secure login to access.  It's used worldwide – even by the U.S. goverment.  Because it's a secure and private cloud, your data is not stored on your computer or your phone – which means if either gets stolen, thieves don't have it all right at their fingertips.  You can also download the free LifeKeep app to access your secure information on the go.