Hey mamas! A new Tuesday brings a new blog-of-the-week, and I hope you find this week's blog to be as delicious as I do. 
When I read her blog, it's a bit like watching American Idol and being tone-deaf, or Dancing With The Stars and having two left feet. I just gawk in amazement… I wish I had Christina's skills!!  She inspires me when she says it wasn't always this way, though – so stay tuned, because I think I will actually try this awesome recipe and tutorial.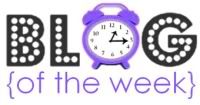 Hi Happy Hour Project Fans! I am so excited that Adrianne asked me to guest blog for her "Blog of the Week!" I love Happy Hour Projects, Adrianne is so talented and creative! I have to admit, first I was a little nervous, I have never been asked to write a guest blog before. Guest blogging is like taking a dish to a potluck and hoping to leave with the dish empty and that everyone liked it! Well, I am bringing dessert!
First things first, let me introduce myself! I am Christina from
Mrs. Fox's Sweets
. I have only been baking a couple years. I had tried to bake when my baby boy was a baby, he is 16 now, it was a total fail and I didn't attempt to bake again for another 13 years! The cupcakes that changed it all were for my oldest daughter's 13th birthday party, a total hit! Now, I am addicted and I bake and decorate at least a few times a week! While my husband and 2 older kids remember a time when I didn't bake at all, my youngest daughter never remembers a time I didn't bake and is always right there in the kitchen with me helping!
To stick with Adrianne's "Happy Hour Projects," I wanted to share with you a cupcake project that can be done in about an hour! It may take slightly longer, since the cupcakes will need to cool.
What you need:
Cupcakes

Black Candy Melts

Spider Sprinkles

Black Sugar Sprinkles

Icing

Orange Gel Coloring

waxed paper

piping bag tip 4

(optional) tip 1M
Step 1: Bake your favorite cupcakes!
I used a recipe that I like quite a lot Buddy Valastro's Vanilla Cake- from the Rachel Ray Show Website. This time, I did make them a little bit different in substituting out half the butter for unsweetened applesauce. It does make the cake a slight different texture, but still taste great. You can also just take a box mix, add 1 cup water and 1 cup unsweetened applesauce as a healthier alternative, no eggs or oil, again a little different texture and slightly denser, but healthier. -or- Just bake up whatever cupcakes you would like, after all they are your cupcakes!
Let cupcakes cool before decorating. To speed up the process, stick them in the freezer for a few minutes!
Step 2: Make Spiderwebs
While cupcakes are baking, on waxed paper covered board pipe out your spiderwebs with black Candy Melts, I used Wilton Candy Melts. Microwave about 1 cup of melts in a microwave safe bowl for 1 minute on 50%, stirring halfway, I added about 1/4 tsp of shortening to the melts to make them easier to pipe. After candy is melted, pour into piping bag with size 4 tip, or just use a zipper bag and snip a tiny corner off to pipe for no clean up. However, I like the control of having a tip on a piping bag. Be sure not to make the spiderwebs too thin or they will break easily when removing from waxed paper.
Immediately after piping each spiderweb, add your spider candy while the it is wet, these are by Wilton also. Make a few extra to allow for breakage. Once you are done put them in the refrigerator to set.
Step 3: Make Icing
I made Buttercream, using margarine instead of butter, but feel free to use your favorite icing recipe, or just use store bought icing! Color your icing whatever color makes you happy! Place icing in piping bag fitted with 1M swirling tip. I find it easier to put the bag in a cup to fill it.
Step 4: Decorate Cupcakes
Starting from outside and working your way to the center, swirl the icing onto the cupcake.
Immediately sprinkle with black sugar and add a few spider sprinkles. Gently remove spiderwebs from waxed paper and gently pressing into the icing. Eat and enjoy!
I also decorated up some cool
Witch Hat Cupcakes
 to go with the Spiderweb Cupcakes!   Now get to baking and have fun! Happy Halloween!