In case you missed it, I have shared a little turkey-themed project over at Ladybird Ln and at Mother Crafter.  I definitely embrace the adorable parts of having a young daughter with projects like this little turkey hair bow: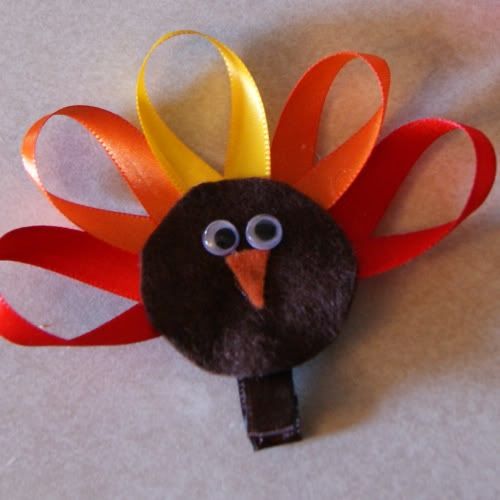 All month, you can find turkey-themed projects at Ladybird Ln, so be sure to visit Carlee for some fabulous Thanksgiving ideas, and tell her I sent you!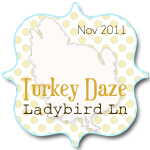 I will give you the how-to right here as well.  Anyone armed with felt, ribbon, and a hot glue gun should find this to a be a fun and fast project.  If you don't have girls, or your girls aren't into frivolous hair accessories – you can use the same design for other decor projects.  I'm thinking a set of turkey napkin rings for our Thanksgiving table might be in order!
The Little Turkey Hair Clip
Alligator clip – you can find these at either craft or beauty supply stores.  You may think it's wasteful to buy a whole pack… but trust me, once you start making hair clips, you will use an entire pack. :)

Felt Scraps – I used a few inches of brown, and just enough orange to make a beak

Ribbon – 5 cuts of 4″ lengths in whatever you think is a turkey color, plus about 6-8″ of ribbon to wrap your clip

Googly-eyes (optional – you could just use felt or foam)

Hot-glue gun
Cut two felt circles about 2″ in diameter, and a scrap for the beak.  Everything you see here is enough to make three turkeys.  Cut five pieces of turkey-tail ribbon 4″ long.  I used two pieces of red, two of orange, and one of yellow.  I cut a length of brown to cover my alligator clip.  If you don't have brown, use a color that could pass for feet instead. :) I try not to buy much for small projects like this – my motto is, use what you have.  Don't have anything brown?  Try a pink turkey, or a rainbow-colored one!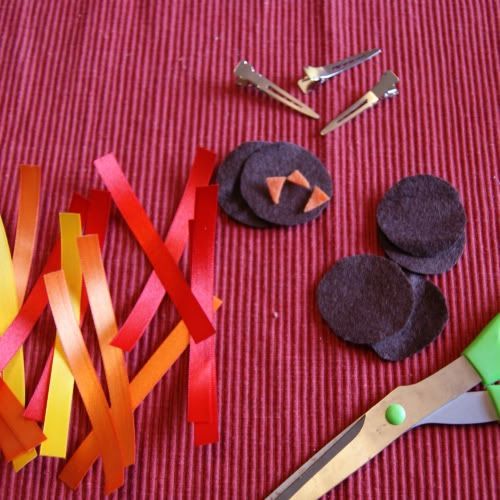 First thing I did was cover my alligator clip with ribbon so that it looks nice.  I did leave the top side uncovered, because it will be glued inside the body.  Just make sure to cover the pinchy-end of your alligator clip, which will sort of be his feet.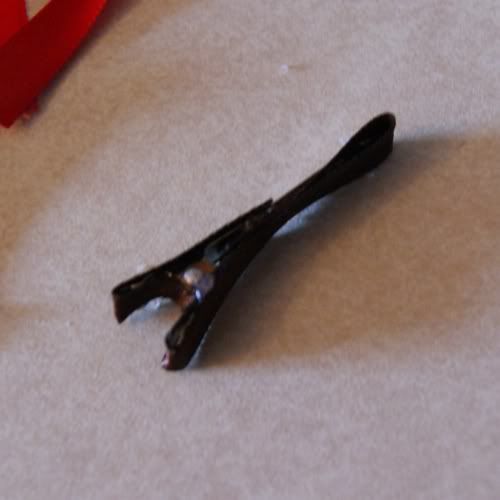 Then I turned the rest of my ribbons into "feathers".  This is hard to describe how to fold them but take a peek at the photo.  They won't fan out as well if you just fold them in half.  I just put a dot of glue at one end and secured the other end in place.  This will make it easier to glue onto your turkey when it's time.
Now arrange your feathers.  After I already glued the beak on, I realized it would be much easier to have done the feathers first, that way the face can be centered on.  But if you already made your face, just center your feathers the best you can.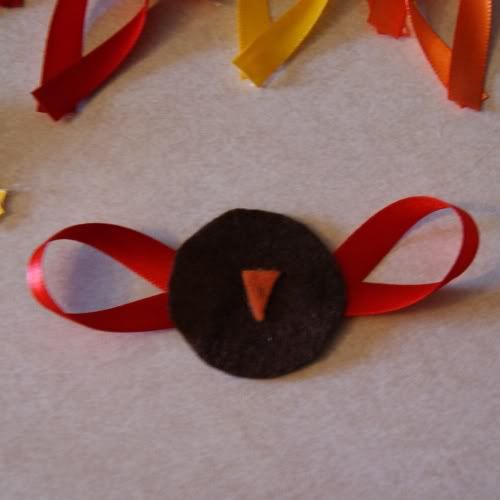 I started at the sides, and worked toward the middle to get it centered.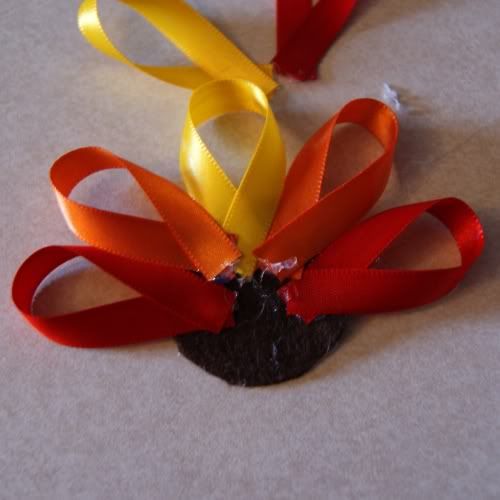 Now, to glue your felt body to the alligator clip. 

Take your non-feathered circle, and squirt a line of glue.  Place it between the jaws of the clip – facing your metal side if you didn't fully cover your clip.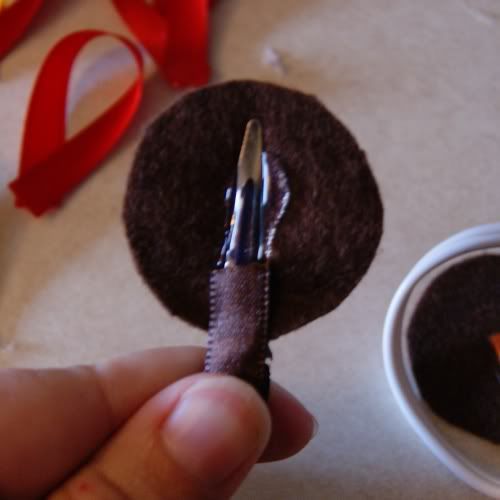 Cover the whole thing with glue.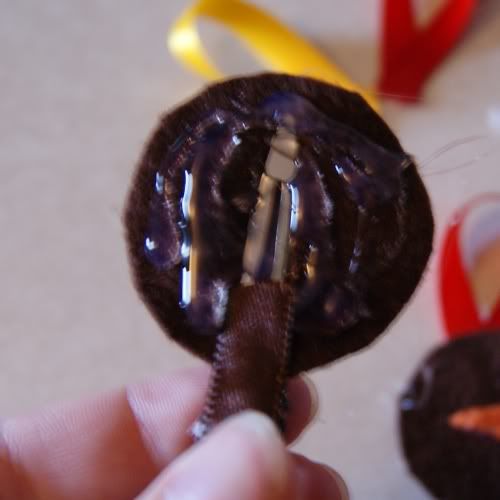 Then place your feathered side on top.  Almost done!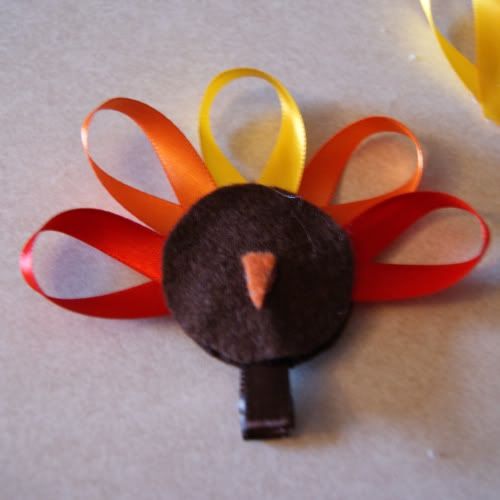 Just finish his face!  He can be clipped into hair or onto a headband to wear.  You could also skip the alligator clip altogether and attach the turkey right to an older girl's headband.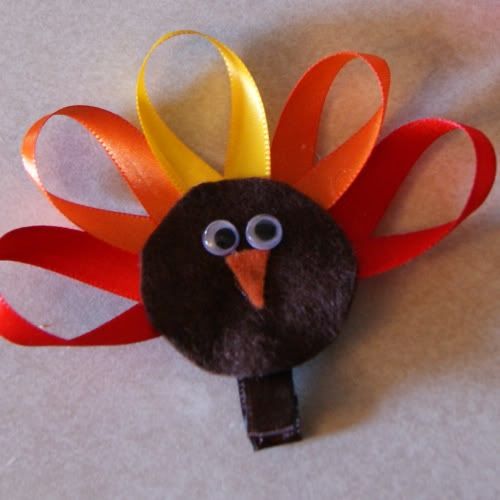 This is my daughter, Raya, who can't be bothered with modeling when there are Cheerios to be had – so this is the least blurry shot I could manage.  We will call it an "action shot".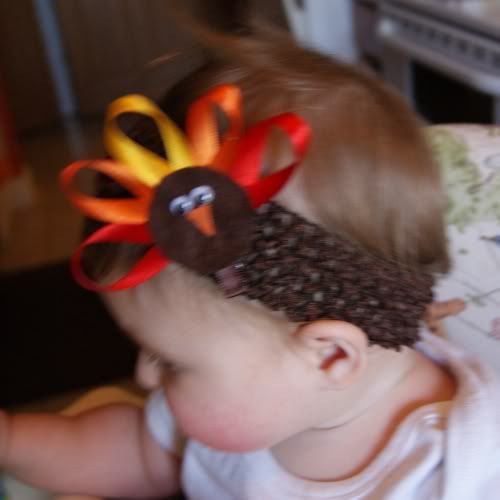 But I can't be frustrated with a face like this.  And hopefully by Thanksgiving, she will even leave it on for at least five minutes. :)
?