I have a fun share for you today – I'm hosting a cookie swap with some blogger-friends and we are each posting a Christmas cookie or sweets recipe!  I would like to share my Christmas Mice with you, and when you've pinned that for your holiday baking list (hint, hint… haha) there are a some more yummy-looking recipes below for you to check out!  But first – on to the mice!
These chocolate cherry mice are simple to make and require NO baking!  They impress every kid I've shared them with (and some adults, too). ;)
Chocolate Cherry Christmas Mice
yields: about 24 mice
Jar of Maraschino Cherries with stems
Hershey Kisses – one bag is plenty, you will have lots leftover
4 oz. dipping chocolate (I used about 1/4 package of Candiquik)
about 1/4 c. sliced almonds
How many mice you make will really depend on how many cherries and Hershey Kisses you have or want to use, because each mouse takes one of each.  Each mouse also takes just two little slices of almond.  I'm just offering measurements to give you an idea of how much dipping chocolate you will need to put them together – you can adjust this recipe and make as many or as few as you want, of course!
Lay your cherries out on paper towels to absorb as much juice as possible.  Unwrap an equal number of Hershey Kisses.  I wanted my mice to be really cute, so I also picked through my sliced almonds to choose the nicest, roundest slices and kind of sort them by size and shape so that each mouse would have 2 ears that looked about the same. ;)
Now, melt your chocolate.  I melt mine in the microwave, but use whatever method you're most comfortable with.  The best tip I can give you is just to read the package instructions, follow them closely, and stir it often.  It won't just melt in your container without plenty of stirring, and it's easy to overheat it if you don't realize this and check it often.  I am making chocolate sounds hard – and if I can do it, then it's actually easy!! (LOL) I just want you to know the pitfalls if this is your first time using dipping chocolate.
Prepare a sheet of wax paper and let you chocolate cool for a minute or two.  By allowing it to cool just a little, you will reduce the amount of "puddling" you get under your dipped mice.  (If you still find it's dripping off your mice, wait a few more minutes.)
Now, hold a cherry by its stem and dip it in the chocolate.  Let the excess drip off and also allow it to cool just a little.  You will quickly get a feel for how long it should cool in your hand before you move on to the next step.
Once it's done dripping, press a Hershey Kiss onto the cherry to make a head.  Just attach the flat side of the kiss to the non-stem-end of the cherry.
While it's still wet, insert a pair of sliced almonds between the cherry and the kiss to make your ears.  Keep an eye on it for a second, because if it isn't quite cool enough, you may have to prop them back up a couple times.  It will cool pretty quickly on your paper, though.  (It sounds like a lot of fuss and it's really not – just trying to offer troubleshooting tips if you're new to dipping recipes like this.  Those of you who do dipped recipes will find this to be really quick and easy!)
You can move on to the next mouse once you're confident your current mouse will hold together. :) As you work, if you notice a large puddle underneath any of your mice, the best thing to to id just move it to a new spot on your wax paper, away from the drip.  Any puddles will dry that way.
Now… if ever you feel inadequate, just remember that what you normally see are the later photos.  Like this nice one.
But this is what your workspace will really look like.  Not too photo-friendly… but I just want to assure you that you can still pull this off even when you start getting chocolate everywhere! ;)
Anyway – once you're happy with your mice, just leave them to dry and set.  This takes about an hour, but feel free to leave them overnight instead, if you want!
I hope you enjoyed this fun little treat, and that you take a look at the fabulous sweets my friends made today for our Blogger Cookie Swap!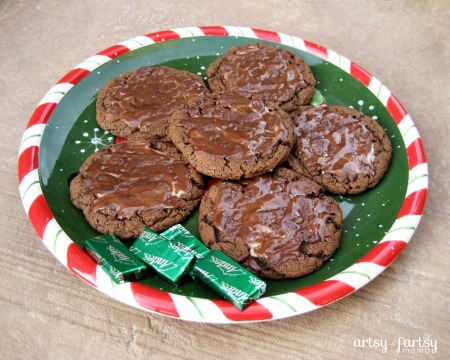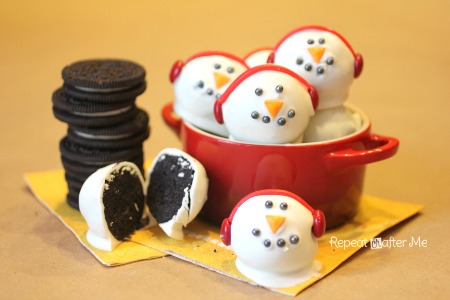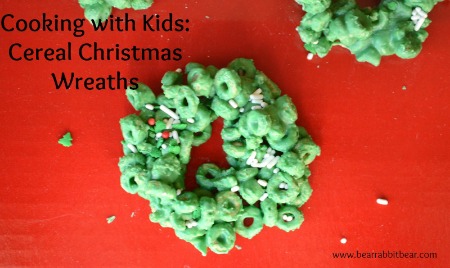 Mocha Cookies from One Artsy Mama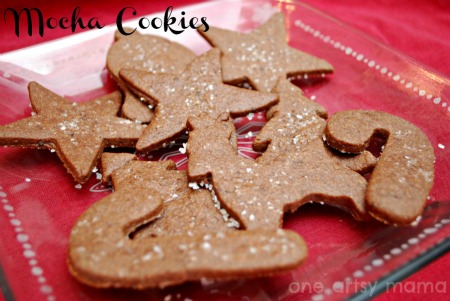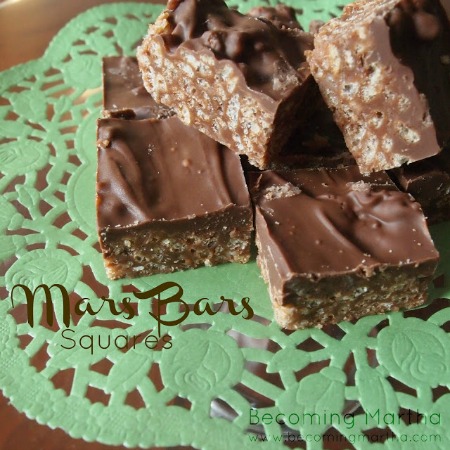 Thin Mint Cookies from Create.Craft.Love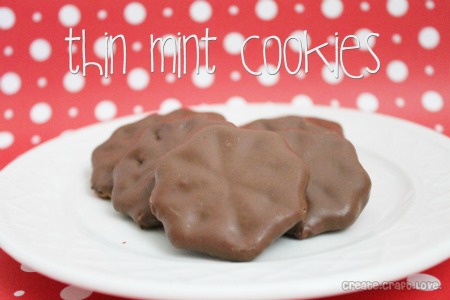 Soft Gingersnaps w/Pumpkin Dipping Sauce from Ladybird Ln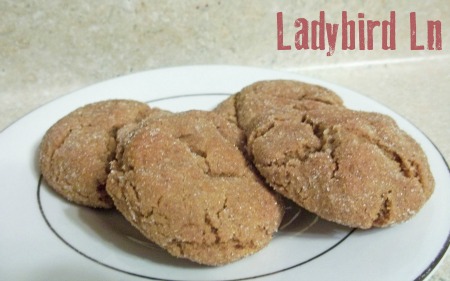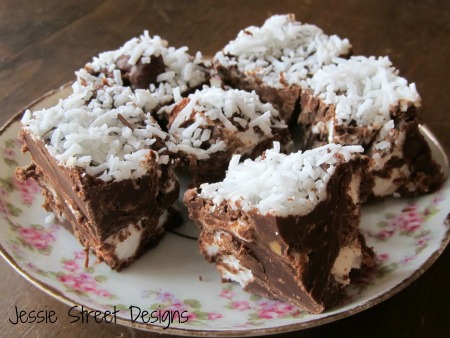 Spiced Chocolate Bark from Chase the Star