If you're looking for Freestyle Friday, click here!  I also have a giveaway running until Tuesday!
My niece-to-be's baby shower is today.  So fun, I have never been an aunt before!  My brother and his girlfriend are expecting Miss Emily to join them at the end of October.  Now I know it's certainly outside-the-norm for a guest to bring food, but I knew the hostess could use a hand, so I offered to bring cake. 
The worst part of bringing cake is transporting it, I think.  Plus, I always manage to screw up the frosting.  And you know, at these sorts of things there's always so much food, you're usually full before the cake is cut – even if you really want some.  So I've finally hit on the solution to ALL of those dilemmas: cupcakes in a jar.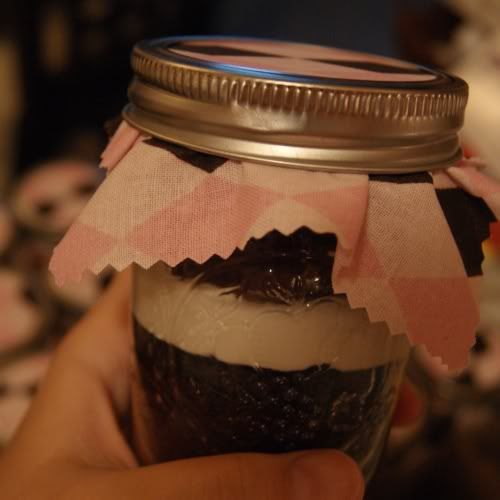 Sprinkles – I'd say this is optional, but who would opt out??
12-ct case of regular-mouth half-pint canning jars
12- 5" squares or circles of festive fabric.  If you must buy something, a fat quarter will do, or buy 1/3 yard off the bolt.
Any other decorative touches you want to add – ribbon, tags, etc.
I can't remember where I first saw these, but they've been floating around blogland for a little while now.  If you haven't seen them yet, I'll show you a few tips to making your own.  I don't find it to be any more difficult than regular cupcakes, though the cost of the jars is a small investment.  It ends up being just slightly cheaper in the jar (with a bigger serving) than if I go to my delicious bakery for cupcakes, I have found.
I've confessed before, recipes are just not my thing!  So a mix works fine – but choose something you like the looks of, since the point is that these are *pretty*.  I wanted chocolate cake with pink frosting, but upon inspection of my baking supplies, I was out of red food coloring.  Boo.  So white frosting it was, since responsible mamas use what they have.  Yes, it's sort of a theme I'm aiming for.  Expect to hear that in most posts. :P

Anyway, back to task.  Make your cupcakes a little on the smaller side.  The goal is to not have them expand over the edges of your pan, otherwise they don't fit as nicely into the jars, so aim for filling your cups about 2/3 full.  I also don't use papers when I bake them, since you'll just have to take them back off for assembly.  Bake (and cool) your cupcakes according to the directions.
Wash your jars and put one cupcake in the bottom.  You will probably want to use a spoon to smoosh it in there fairly evenly, it's usually too snug a fit for them to drop right in.  Just ease it in. 
Now load up your frosting into a freezer-duty Ziploc bag.  Do not use a sandwich-duty bag.  Unless you are just trying to create excuses for licking frosting off your hands, which is fine, but at some point you'll really need to frost these babies.  Trim a small corner from the bottom of your bag, and you have an instant dispenser.  See, I do know a few foodie tricks!
The best way I finally found to the frosting in these is to squirt a ring around the edge, like so.
It doesn't have to be exact, as this is our middle layer.  Then, I use the back of a spoon to smooth it out.  You just want it to look nice from the outside of the jar, so aiming for the edges gives it a nice look without frosting overload.  (Wait, IS there such a thing?)  Then, load another cupcake on top. 
Then squirt another ring of frosting, and smooth again.  I always add sprinkles, because sprinkles make people happy.  This time I opted for mini chocolate chips. 
As far as decorating, I've done a lot of different things of varying fussiness.  I finally gave up on adding ribbons, because they fall off so easily, and you need around 12" per jar.  My best mix of *cute, frugal and fast* ends up being a 5" square of fabric.  I trim it with my pinking shears so that it won't fray, and the edge looks just a little nicer, and then I cover the jar and lid with that, and then screw the ring on top of that. 
You could really add any touches you like, though.  Cut the fabric into 5″ circles for a little cleaner look, add tags, bows, ribbons, etc… it's awesome that you can decorate these in any way you think of to make these your own!  But I have found amongst my non-crafty friends and family, a simple square of fabric does plenty to impress, so if you're pressed for time, supplies, or creativity, a simple square in a fun pattern definitely does the trick.
The beauty of these are also that *everyone* gets one.  Anyone who's not hungry right at that moment can take theirs home (with no stealing of the hostess' tupperware).  They last for 4-5 days, so you can make them up a day or two ahead and still leave some shelf life if it doesn't get eaten the same day it's gifted.