I recently presented this cute and simple cocoa recipe over at Imprintalish as part of her Kickoff to Christmas Sweets Day!  In case you missed it, I'll give you the how-to – it's so easy!


If you're anything like me, there are a lot of people you'd like to thank at Christmastime.  Edibles are always a big hit, and handmade gifts show that you put thought and effort in for that person.  This year, I have worked hard to include handmade touches to my gifts, and people have been very appreciative.


Fortunately – people don't have to know how crazy easy this gift is!  You can whip one of these up in ten minutes or less if you have your supplies on-hand.


Recipe for an 8 oz jar:
1/4 c. powdered dry nonfat milk

1/4 c. powdered coffee creamer

1/4 c. granulated sugar

2 Tbsp. baking cocoa

chocolate chips (mini chips work best, but use what you have)

marshmallows
I didn't measure how much I used in marshmallows and chocolate chips – just a small handful of each to make it look nice.  The recipe itself is fabulous without them, they just make for nice presentation!


Keep all your ingredients separate, and I will give you some tips below when it comes to layering them!


Hobby Lobby runs half off specials of their glassware regularly, so that is where I got this hermetic jar from.  I just love the glass top and metal latch.  But any 8 oz. jar will work.  Check your dollar store, or use Ball jars!  Please forgive the prep pictures – there's rarely much daylight left when I finally have time to work. :)




First of all, I stir my cocoa and coffee creamer together.  Because it's cocoa, I want more chocolatey-looking ingredients to show.  By mixing the two, you will have fuller cocoa layers.  


Now, in a clean jar, put all your sugar in.  It doesn't have to be exactly level, but you do want to make sure it's a visible layer all the way around the jar, so go ahead and shake it a little to settle it.


Next I add about half of the cocoa/creamer blend, and tap the jar so it's more or less level.  Then I pour in about half of the dry milk.


When it comes time to add the chips next, I arrange them around the outside of the jar.  You don't need to use much for the recipe, but the point is that you want to see them from the outside of the jar:


Then, I add the remainder or the dry milk.  At this point, you want to tap the jar fairly well so that it packs down as much as it can, because the dry milk is grainy.  You'll be adding the remaining cocoa on top of that, and you want it to hold up the cocoa layer as best it can.


Add the last of your cocoa mix, and pack in a bunch of marshmallows.  The marshmallows keep the ingredients in place, so go ahead and squeeze in as many as you need to fill the jar completely.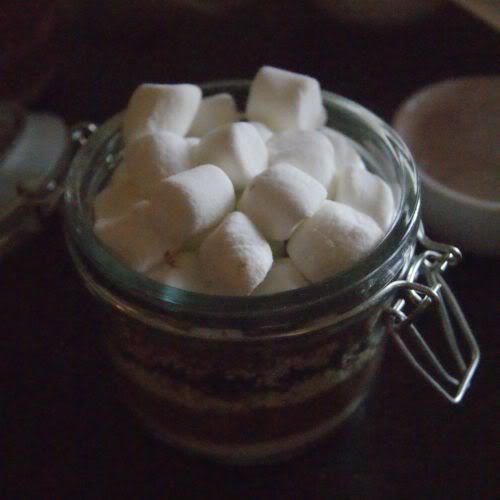 Close off your jar and add a festive touch.  I go for the minimalist approach with snowflake stickers from my scrapbooking stash and a bow. But depending on what sort of jar you use, the possibilities are really endless!


You should include a note for mixing instructions: This recipe for one jar makes two mugs of cocoa.  Just add the contents to 16 oz. of hot water.  Share and enjoy!




Perfectly giftable by itself, or as an addition to a Christmas cookie sampler!  Yum!


~ Adrianne