This post brought to you by American Frozen Foods Institute and the Frozen Food Roundtable. All opinions are 100% mine.
Hey friends! I want to share a heads-up with you about a great upcoming Twitter party from the American Frozen Food Institute. You may remember a few weeks back, some of the meals I shared that were easily prepared with frozen foods. Frozen foods are How Fresh Stays Fresh, and I want to tweet with you about it at the upcoming Twitter party!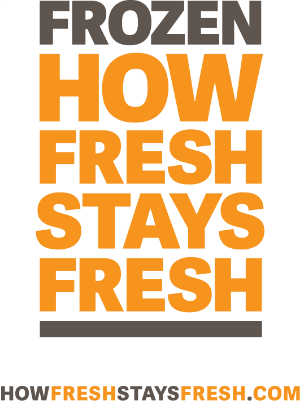 Let me give you a little background on what The American Frozen Food Institute's message is. Freezing is nature's pause button, allowing you to enjoy fruits, vegetables, meats, and artisan recipes whenever it's convenient for you. You can learn more by attending the Twitter party – plus, you've got the chance to win one of 4 gift cards being given away during the party!
Here's the scoop:
RSVP now! Visit The Divine Miss Mommy to add your Twitter handle to the party.
Join me on July 29th at 7pm-8pm EST.
The host & co-host for the party are @StacieinAtlanta and @QueenofSwag4U, so be sure you're following them.
Follow the hashtag #HowFreshStaysFresh.
Up for grabs are $1000 in prizes! 4 gift cards will be given away: 2 worth $100, 1 worth $300, and one worth $500! Winners will be announced throughout the party – you must attend the party to win.
Now, if you haven't attended a Twitter party before, or if it's been a while – they're lots of fun! There are some helpful hints you can check out by reading these instructions. If you want to get warmed up and make sure you're doing it right – feel free to start out by saying hi to me! If you're not already following me on Twitter, you can do it now. Tweet me at the party (or anytime) by tagging me, @HappyHrProjects. The best way to attend a Twitter party is to just jump right in. There will be prompts and questions you can answer by following and responding to the party hosts, and responses will be chosen at random to win gift cards.
Can't wait to see you there, and I hope you're one of the lucky winners!