This is a sponsored post written by me on behalf of Nutrisystem. All opinions are 100% mine.
Is losing weight one of your goals right now?  It can be a challenge, I know!  I'm a busy mom – and I know a lot of you are in the same boat.  It's tough finding time for all the things we should be doing to take better care of ourselves, so plans like Nutrisystem take care of all the counting and portioning for you.  If you're trying to make living healthier a priority this year, then I've got a great contest to share with you.  The Nutrisystem Pledge To Lose Contest is your chance to win 3 months of Nutrisystem, free!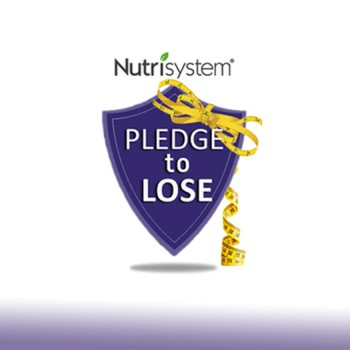 To enter, just share why you #PledgeToLose weight and live healthier this year.  If you submit your entry today, you could also be 1 of 15 winners randomly selected to receive the Nutrisystem sampler pack, Decadent Delights 14-pack!  
Wondering if Nutrisystem is the right fit for you?  You can check out the Nutrisystem Diet Plans by visiting their website, and Join Nutrisystem on Facebook to stay up to date with news and special offers.
This is the last week to enter, so visit the Nutrisystem Pledge To Lose Contest page, and submit your pledge by February 2.
This year, the kids and I are eating lots more fresh fruits and vegetables.  Even my picky daughter, who has traditionally been anti-produce, has started to enjoy apple and orange slices.  We've been going bowling, and playing out in the snow, instead of being couch potatoes.  We're having a lot more fun being more active!
What are you doing to live healthier this year?  I'd love to hear your tips and suggestions!