This post brought to you by STOLI® Vodka. All opinions are 100% mine.
Happy 4th, friends!!  I'm SO EXCITED for this weekend!  Okay, so it's really no secret that I enjoy a nice cocktail when my husband and I get time away from the kids. We've got mini-getaway planned this weekend to Traverse City, and while we're there we're going to catch up with the Stoli Limo-nade Truck at the Cherry Festival on Sunday night!  Any Michigan friends going to be there?  I would love to meet up!
We love Traverse City. So much, that we honeymooned there!  It will be five years ago this summer, so it seemed like a great time to have a little getaway without the kiddos.  Man, I love them, but we are in desperate need of some adults-only time.
You can catch up with Kevin and me at The Yard on State Street on Sunday, where the truck will be from 5:30-9:30.  (and if that time doesn't work for you, you can always catch it around town throughout the week!)  FInd out where the next stop is when you Follow Stoli on Twitter.  You can also share your Stoli Limo-nade photos on Instagram using the hashtag #StoliLemonade!  The truck has Stoli swag, cocktails, Stoli pops and more.  (And don't forget – you can Join Stoli on Facebook to squeeze the most out of summer, too!)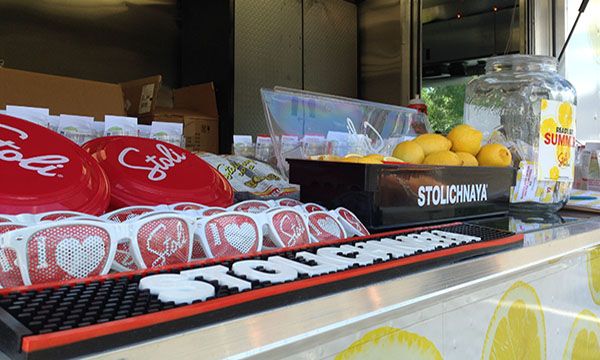 Now, down to business.  Today, I've got a great – and simple – summer cocktail to share with you.  Stoli Lemonade is the perfect easy drink for no-fuss entertaining or relaxing on the patio, because it's cold, smooth, with a bit of both sweet and tart, and just a couple ingredients.
In a shaker tin, add:
2 ice cubes
2 oz. Stoli vodka
4 oz. fresh lemonade
Shake it until chilled, and pour over ice in a mason jar or highball glass, and garnish with a lemon wedge.
You can try it with Premium Stoli – or add a twist by using one of the flavors, like I did!  Stoli Razberi shaken with and garnished with fresh berries is a great twist on this easy cocktail.
Seriously, I can't wait to get up north for our summer getaway tomorrow.  I can almost taste it!  If you're going to be in Traverse City, I'd love to say hello and shoot a few selfies at the Stoli Limo-nade truck, so be sure to find me!
UPDATE: I've got some photos I want to share of our little getaway!  You saw our shirts from our honeymoon?  Well, we busted them out again and shot a few selfies!
I guess we've changed a little in 5 years.  Kids will do that you a person. ;)  But I still had a handsome date for some great live music at The Yard!
The girls at the Limo-nade truck were a blast!  If there's a truck in your area, you definitely need to make it out and say hello.  They've got samples and popsicles to share.
I pulled a challenge from the challenge jar, and won some Stoli swag by balancing a lemon on my head.  I saw a guy stuff 40 lemons in his pockets.  Seriously – that's what summer relaxing is all about, right?  Friends, laughter, cocktails, and "remember that time when…"
For anyone I didn't get a chance to say hello to, I'm still going to raise a virtual glass to you now and say, cheers!   So, when is your favorite time to enjoy a Stoli Lemonade?  When you've got friends over?  By the campfire?  After a day at the beach?