This post brought to you by Buffalo Wild Wings. All opinions are 100% mine.
If you read here often, you probably know I just took 6 weeks off work to be home with our son, Roman (and of course, with Raya too!)  I'll be honest, it has been rough getting back in the swing of things and being at work all day, but the truth is, I love my job.  As much as I loved being at home, I was also ready to go back.  I know it couldn't have been easy for my co-workers to pick up the slack while I was off – so when I had the chance to surprise them with a lunch from Buffalo Wild Wings to say thanks, I jumped on it!
Our office is mostly men, and a good portion of office talk is about motors, football, and beer.  I'm not trying to be cliche – I'll take that ANY day over celebrity gossip or reality TV!  But if we're going to compare notes on our college teams or our fantasy football lineups on a Friday afternoon, well, it's so much better to do it over some Bdubs wings!  (Heck, it would be even better to do it over wings and Game Changer Beer, but this was lunch *at the office*, and these days, that's generally frowned upon.  So… just wings, and a few other great additions.)
I set up a little lunch party in the office break room on Friday, and it was a hit!  You may have seen the updates:
Okay, so I haven't gotten to throw a proper party in a while.  I may have gone a little overboard. ;) But who doesn't love a good party – especially on a Friday afternoon at the office?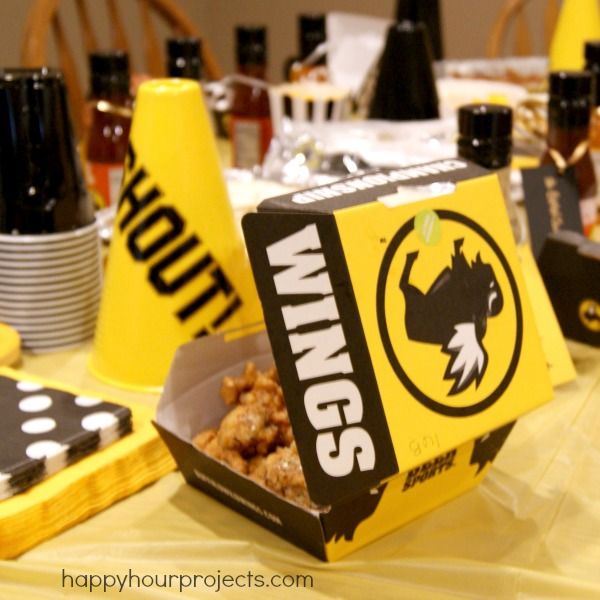 The wings were obviously the star of the show.  I ordered double the "recommended" number… and there were just four left. ;) And because everyone loves the great sauce flavors at BDubs, I made sure to include some "manly" party favors as well – bottles of sauce to take home.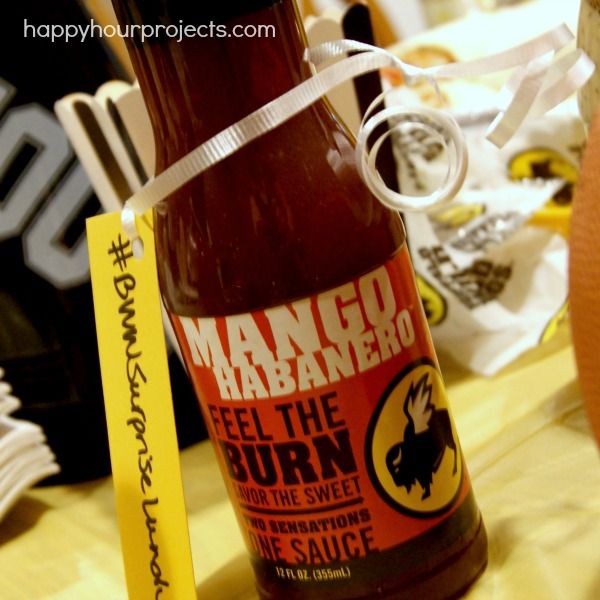 The surprise great addition to the wings, wraps, potato wedges and pulled pork sliders were the soft pretzels.  None of us had ever tried them before, and alongside the classic favorites, they were awesome!
I have to say thank you to my Wyoming Buffalo Wild Wings for making our lunch amazing.  I picked up a catering menu, called in my order, and they made sure we weren't missing anything!  And the food was just as awesome catered as it is when we dine in!  It was definitely a win with our group! Now that I know how great BWW's Large Order Takeout is, I will definitely be calling them for our next party (or tailgate)! It's a great way to please a crowd at home or at the office.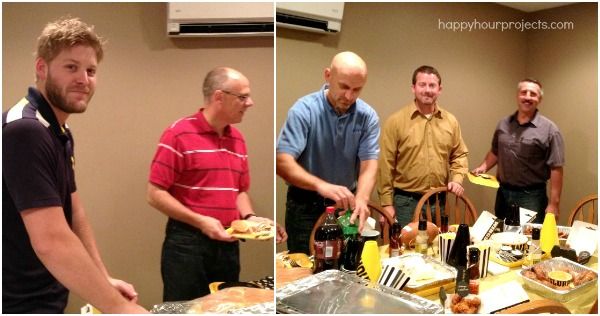 So, I have to ask: Everyone's got a favorite BDubs wing sauce.  What's yours??
Buffalo Wild Wings is home of the Bottomless Boneless Lunch.  Be sure to Like Buffalo Wild Wings on Facebook and Follow Buffalo Wild Wings on Twitter to keep up with news and promotions!