From time to time, I like to introduce you to some of my favorite bloggers, and if you read here often you will recognize Kara from Petals to Picots today. :) Kara blogs about crochet, and has shared a few recipe posts here in the past.  Well, recently she has made some beautiful crocheted wire jewelry, and I thought my jewelry readers would really enjoy seeing her pieces so I asked her to come and share today!  Her patterns are available free on her blog, so if you enjoy crochet, be sure to check these out!
~ Adrianne
Hello Happy Hour Projects readers!! My name is Kara and I blog over at Petals to Picots where I share about all things crochet. I am so excited to be here today!
I am always oohing and aahing at all Adrianne's amazing jewelry. I have this vision of her jewelry box just overflowing with her lovely pieces. My favorites have to be this this beautiful beaded bracelet, her stamped washer necklace, and this very cool stone filled heart! Crazy talent, I know!
So, I set out trying to make some pretty bling of my own in the one way I know how … crochet bling! Here is what I came up with …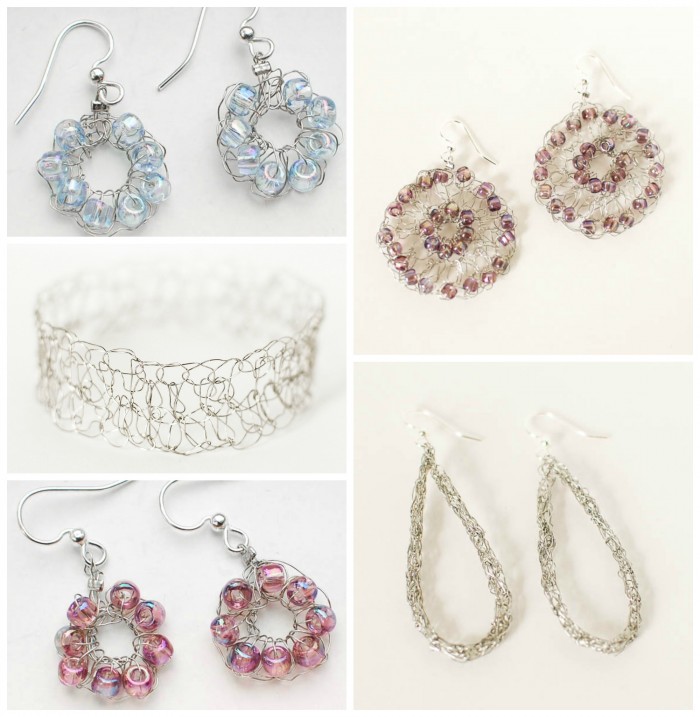 Clockwise from top left: dainty beaded earrings, beaded medallion earrings, teardrop earrings, dainty beaded earrings, trendy bangle.
Want to try your hand at a piece of your own?
Here's what you'll need:
wire in your choice of finish, approximately 28 to 30 gauge
small steel hook, approx 3.25 to 3.75 mm
wire cutters (I'll be honest … I use my scissors!)
size 6/0 seed beads (optional)
a pair of ear wires if making the earrings
The only other thing you will need is some very basic crochet knowledge … seriously just single crochet will work! Just click on the links under the collage for the individual patterns and how tos. I hope you're inspired to make some wire crochet pieces of your own. I would love to see what you come up with. Feel free to share photos of your finished pieces on my Facebook page.
Thanks so much for having me here today, Adrianne!