This is a Sponsored post written by me on behalf of FrogTape brand painter's tape for SocialSpark. All opinions are 100% mine.
If you have seen me on Instagram and Facebook lately, you will notice that now that fall has arrived, it's suddenly painting season around my house!  As soon as the cooler weather hits, I have SO much more energy to direct toward giving our space a makeover.  Does that happen to you?  I've finally had the opportunity to get my studio set up this past week, so it has been lots of fun having one room in the house that I can decorate any way I want.  And that means adding fun pieces like this:
I am on a tight budget when it comes to putting pretty touches on my craft space, though.  And when I say tight… um, I mean, it's a good thing I'm a DIY-er and re-purposer.  I found this dusty old beauty when I was unpacking some boxes from our move in July, and I knew it would make for a fun project.  As fate would have it, the next day I had the opportunity to try out FrogTape®'s NEW Shape Tape™, and I knew exactly the look I wanted!
I am a big fan of FrogTape® already.  In Raya's old nursery, I used it to create a painted block wall.  (Wow, I can't believe that was 3 years ago already!)  FrogTape® has PaintBlock® technology – a polymer that gels in contact with the water in latex paint to create a barrier, sealing the edges to protect against paint bleed.  Even on our textured walls, I was thrilled with how well it worked.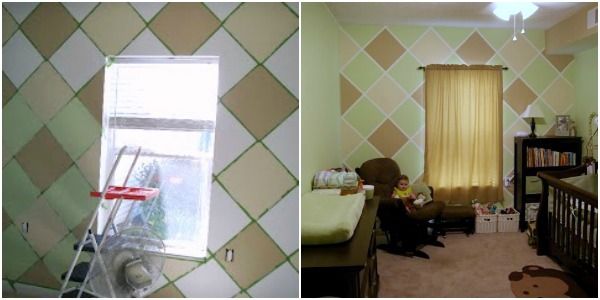 Their Shape Tape™ has the same technology, but it comes in 3 pre-cut patterns for projects with a little more detail: Scallop, Wave, and Chevron.  I knew the chevron pattern would be perfect for my lamp!  So I mixed up some chalk paint and got to work.
I'm sure the pre-mixed chalk paints are amazing, but I have always mixed my own and have loved the results for slightly-distressed projects.  It's also really cost-effective for small pieces like this, where you can use up small quantities of paint you may have leftover from other paint projects, or you can even buy sample sizes and get just the shade you're looking for.  (For you color junkies out there, the colors I used today are Benjamin Moore's White Dove and Elephant Gray.)
To mix up your own chalk paint, I use this ratio:
1 part plaster of paris
1 part warm water
3 parts latex paint
Dissolve the PoP in the water, and mix the latex paint into this mixture, stirring it well.  Paint your base coat and allow it to dry.  Chalk paint shows fewer brush marks than normal latex paint, and goes on thicker.  Depending on what your next coat is going to be, you may only need one coat.  I used two.
You will need to rub on some wax at the points you plan to distress.  For me, that was each of the 4 edges, and random areas on the face of each side.  This will make the base coat show through very easily when you sand it later.
Next, I added my Shape Tape™.  You can vary the placement to create heavy lines, thin lines, staggered lines – even diamond patterns.  I chose the classic chevron pattern with equally spaced white and gray.  For the PaintBlock® technology to work, you need to apply the tape firmly and evenly.  To help with this, the tape actually has a slit liner on the back for easy positioning.
Ready for the final coat!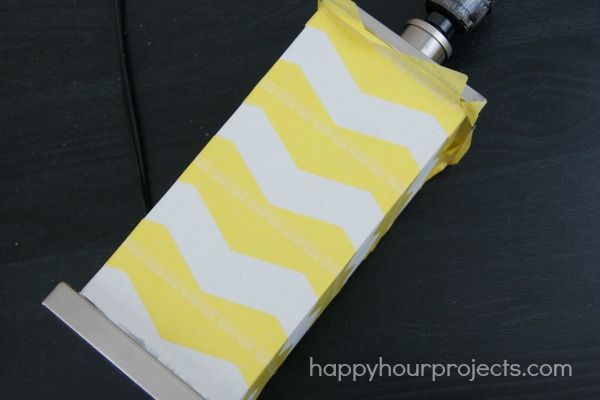 I painted my gray, removed the tape while it was set but not dry, and allowed my lamp to finish drying completely.  Once dry, I used a fine grit sandpaper to lightly distress it.  Then, I rubbed the whole thing with a final coat of wax to protect it.
What do you think?  I love how it turned out, the shape tape was the perfect way to add an easy chevron pattern.  I can't wait to try it on another project!
You can keep up to date with the latest creative ideas and inspiration by following FrogTape® on Twitter @FrogTape!